Live Safely: The OG&E Way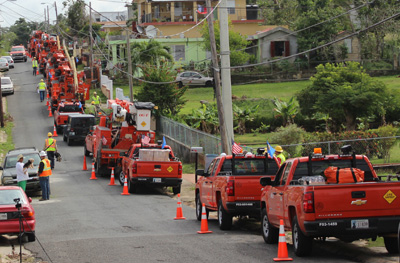 Safety is more than a priority at OG&E – it's a value. Priorities can change daily, but values stay the same and define what OG&E is as a company. Formed in 1902, OG&E is Oklahoma's oldest and largest investor-owned utility, and over time it has built a culture around being incident- and injury-free (IIF), with the companywide belief that one incident is too many. In everything OG&E employees do, they are intentional about safety and committed to living safely, whether it's at work, at home, at play or behind the wheel.
All OG&E employees receive rigorous and personalized IIF training. One of the most meaningful parts of this training is "the letter." Imagine getting a letter from your loved one stating that he or she has been in an accident and this is goodbye. Every employee is asked to write this type of letter to their family. It's a gut-wrenching exercise that really drives home the critical importance of safety.
To further the culture, every company meeting begins with a safety moment. It can be anything from a driving tip to a personal experience. Our employees also carry safety coins every day as a reminder to always live safely and to protect themselves and others from injury through constant engagement.
Since OG&E started its IIF journey in 2008, the company has continued to see a decrease in incidents and injuries.
"We put a stake in the ground, so to speak, by standing up and saying our employees deserve to work in the safest environment in the industry," said Jean Leger, vice president of utility operations at OG&E. "Employees live and work safely not out of motivation to be in compliance or to avoid punishment, but instead because not doing so would violate a deep internal value. It's our steadfast determination to achieve a goal – even in the face of obstacles and setbacks."
Mission Safety
In 2016, OG&E celebrated its safest year in the company's 115-year history. That record was matched in 2017, and the company is on track to do the same again in 2018.
So, it's no surprise that when OG&E received the call for help in Puerto Rico after Hurricane Maria hit the island in September 2017, the first thing company leaders evaluated was whether the mission would be safe for employees.
"This restoration effort would be like none other for us," said Mike Douglas, OG&E preparedness manager, who has more than 35 years of experience in emergency service restoration. "It was territory we had never been to, in conditions we had never worked in and for a length of time longer than any other. OG&E has always been a company that is willing to respond to any event. We saw a need and we were willing to respond to that need, but our No. 1 goal never changes: working and returning home safely."
The request for help in Puerto Rico came on the heels of OG&E crews returning home after working back-to-back storm restoration events in Texas and Florida following hurricanes Harvey and Irma. While these events had been worked incident- and injury-free, OG&E had to consider how to schedule deployment so that employees would not be subject to distractions and fatigue going into another major restoration event.
OG&E committed to providing resources for 40 days to help with restoration on the island and deployed resources in two waves. Each wave consisted of crew members, management and support personnel, such as mechanics and safety professionals, who worked 20 consecutive 16-hour days.
"We're no strangers to hard work or long hours," said Terry Garrett, OG&E distribution construction manager. "Whether it's Puerto Rico, Florida or wherever, we're kind of geared toward service restoration. Our linemen get up in the middle of the night to put their boots on and leave their families to safely go get the power back on."
Prior to crews traveling to Puerto Rico, OG&E's safety team conducted a one-day safety orientation to discuss hazards crews could face on the island. Specific hazards included road conditions and traffic, island insects and poisonous plants, heat and humidity, mountainous terrain and overgrown vegetation. Crews also received vaccinations, health advisory guides and tips to help reduce exposure to disease while on the island.
In preparation of crew arrival on the island, OG&E sent an advance team to Puerto Rico to inspect fleet vehicles for damage that might have occurred during transport, coordinate safe lodging sites, and secure primary and backup staging areas.
Arrival on the Island
Once crew members arrived on the island, they received an additional safety orientation conducted by the regional incident management team responsible for directing restoration efforts.
"The incident management team orientation covered terrain, traffic and voltage differences," said Brent Perdue, OG&E safety coordinator. "What they consider transmission on the island is different than what we consider transmission back home. We also discussed potential asbestos-contaminated materials and the differences in the island's distribution infrastructure."
Once restoration work began, OG&E held daily safety meetings that included discussions about near misses. A near miss is an unplanned event that did not result in injury, illness or damage, but had the potential to do so. Reporting and investigating near misses can help prevent similar incidents and injuries from happening in the future.
According to Jacob Todd, an OG&E lineman who worked on the island, "A morning in Puerto Rico was getting up before it was light outside, gathering at the staging area, and having a safety meeting to discuss any near misses that may have occurred the day before and how we can avoid the hazards going forward."
Foremen on the ground also completed an in-depth hazard analysis and safety tailboard before performing any work. The tailboards included reminders for crew members to stay hydrated, plan for longer and more frequent breaks, and rotate strenuous roles between crew members. Adding those items to the tailboards helped crews transition from the 30-degree Oklahoma and Arkansas temperatures to the tropical 80-degree temperatures on the island, and to deal with the challenges of overgrown topography.
"We were climbing through the terrain with our hands and feet, kind of crawling," Todd said. "The lines had been down for so long that they were just buried in vines, and we had to use machetes to chop the vines off the wire so we could pick it up and restore power."
According to Tyler Scott, an OG&E foreman who worked on the island, "We had to change out a pole out on top of a mountain. It was literally on top of the mountain. To get some wire up, a member of my crew had to actually use rappelling equipment and rappel down part of the mountain to get the wire cleared out from under the trees and brush."
As anyone could guess, machetes and rappelling equipment are not commonly used tools for power restoration in OG&E's service area.
And if the terrain wasn't challenging enough, traffic and road conditions also posed safety concerns and required extra precautions.
"The roads over there are not made for our big trucks," Garrett said. "They're made for small vehicles. Every day, we would put a pickup truck with a radio in front of the crews driving the bigger vehicles. The person in the pickup would radio back any hazards in the road, like other oncoming trucks or downed trees. If there was a blind corner, we would put our linemen who weren't driving there to help the trucks navigate around them."
In total, OG&E sent 127 employees to the island – and every one of them completed restoration and returned home incident- and injury-free.
"People always ask us what we do to prepare. We stay prepared," Perdue said. "We did add some measures once we evaluated hazards specific to Puerto Rico. And that's something that we would do in any restoration event, inside or outside of our service area. Preparation is the key to safe and successful restoration."
About the Author: Trisha Bilyeu is a communications specialist for OGE Energy Corp. In her role, she coordinates, develops and implements internal and external communications programs, providing communications counsel for the company's Health and Safety, Community Relations, Government/Community Affairs, Ethics and Supply Chain departments. In addition to her job responsibilities, she serves as a public service leader for OG&E and is a member of the company's Safety Task Force.