Keys to Effective Fall Protection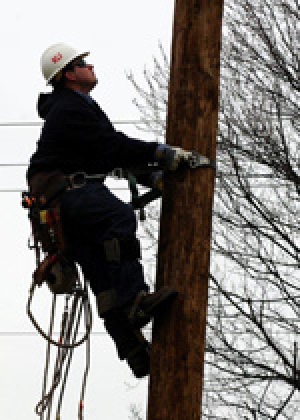 The electric utility industry is loaded with potential hazards. Climbing at heights is one of those inherent safety risks that come with the job. At Louisville Gas and Electric (LG&E) and Kentucky Utilities (KU), we require 100 percent fall protection on poles and towers for our employees and business partners. This policy is part of our "no compromise" approach to safety and supports our belief that we can leave nothing to chance when it comes to the well-being of our workers.
We also know that effective fall protection requires much more than just putting on the necessary gear. We have learned that effective fall protection, as with other aspects of safety, depends on up-to-date training, communication, hazard control and employee behavior. Each of these components must be fine-tuned and in place to ensure workers can complete their climbing work without fear of incident.
Training and Job Briefings
Training on equipment and fall protection standards is key. Manufacturers continue to improve equipment and increase its safety, effectiveness and efficiency. However, to take advantage of improvements and progressions in technology, employees must be up to date on their personal training and understanding of climbing requirements and associated equipment, including gaffs, belts, lanyards, harnesses and attachment points.
Job briefings must be conducted before every job to identify and address potential hazards associated with the work to be performed. It is important to identify, write down and discuss job hazards and the plans to mitigate them. As a line tech ascends a pole, he or she should be aware of changing conditions that are different than those discussed in the job briefing.
Pole Inspections and Maintenance
Pole inspections are a key component of a job briefing. At a minimum, employees should check poles using a hammer and/or rocking test before they begin to climb. Visual inspections should be conducted to check for burn marks, depth of setting, shell rot, cracks, knots, holes and soil conditions. Wood decay below the ground line should be investigated with a prod or screwdriver. The pole and pole attachments also should be inspected to determine if they will support the work to be done, such as lowering wire and equipment, or hanging additional equipment and stresses.
Proper, well-maintained climbing equipment is critical to prevent incident and injury. A worker must always select the proper fall protection gear to fit the environment – such as climbing on scaffolding, poles and towers – and make sure it is in top-notch condition.
Gaffs
Gaffs are obviously an important part of the climb and, depending on the manufacturer, have certain limits with regard to length, width and shape. Most hooks come with instructions on proper sharpening procedures and techniques. This includes the type of gauge to be used while reconditioning the gaffs after prolonged use or damage occurs. These procedures and parameters must be followed in order for the gaffs to work properly and provide the best climbing capabilities. Climbing gaffs do not last a lifetime without care and maintenance.
Lanyard Selection and Use
The proper selection of a lanyard is crucial to provide the greatest amount of fall protection for the worker. Not all lanyards are the same length, design and capacity. One size does not fit all people or situations. Proper fit of a harness is vital to provide the full protection for an employee. Tests show impact to the body without a shock absorber reaches upward of 4,000 pounds. However, the impact is reduced to only 1,000 pounds for a body wearing a shock-absorbing lanyard.
When wearing a harness, the leg straps should fit snugly in the groin area. The shoulder straps should fit properly over the shoulders, and the chest strap must be located approximately 6 inches below shoulders.
Time must be taken to inspect the harness before each use, and it also must be inspected twice a year by a competent person. These inspections should address flaws such as, but not limited to, cuts, pulled stitches, dry-rot, and distortions or rust on the hardware. If these measures are not taking place, a harness may not protect a climber as designed and likely will result in injuries.
Lanyards should be kept clean, allowed to dry in the proper environment, and be stored in locations free of exposure to fumes, heat and other corrosive elements. Every lanyard must also have a legible tag identifying its date, model, manufacturer, limitations and warnings. If this tag is not present, the lanyard must be removed from service.
Attachment Points and Clearance Distances
Another critical factor is the attachment point of the fall protection equipment. A rated attachment point must be capable of withstanding 5,000 pounds of impact according to federal standards (5,400 pounds in Kentucky). This is required because, again, impacts may rise to nearly 4,000 pounds in the event of a fall. The attachment point must be in the best location to provide the greatest amount of protection and in a location to prevent contact with any other lower level. The attachment point of a body belt should be located in the center of the wearer's back. The attachment point of a body harness must be located in the center of the wearer's back near the shoulder level or above the wearer's head.
Calculation of potential fall clearance distance should be conducted before selecting fall protection devices. A harness will not provide effective protection for someone working at 13 feet, and the protection device will not fully stop the fall until 17.5 feet. Fall clearance distance is equal to the sum of the length of lanyard, deceleration distance, height of suspended worker and a safety factor. After the distance has been calculated, the proper fall protection combination can be selected for the particular situation.
Communication and Climbing Skills
Once on a pole or tower, employees must be able to communicate clearly in order to work safely. Workers must have a questioning attitude, be alert to changes in the work plan and openly discuss the work being done. For instance, when line techs get to their work location on a pole, they may notice that a bolt is missing or a crossarm is too rotten to withstand manipulations. When situations like these occur, it is crucial that the communication channel is not broken and the hazards are handled appropriately.
Climbing and positioning skills must be kept fresh. New, compact vehicles and specialized equipment, such as backyard machines and extendo sticks, are enabling workers to reach heights in ways other than scaling a pole or tower. However, when the need to climb arises, finely honed skills are critical to workers' safety.
The Bottom Line
With all this said, the bottom line for effective fall protection is the safety mindset and behavior of the workers involved. The "cowboy" mentality of some workers in the utility business can be an obvious deterrent to safety. A casual attitude about safety can lead to a near miss and near misses can eventually lead to injuries or death if not mitigated. While it is difficult to change behavior, the right attitude is critical to fulfilling the factors listed above. Fall protection will only be as effective as the training, equipment and ability of employees to take ownership of their own safety.
At LG&E and KU, we strive to ensure that all the factors that comprise effective fall protection are in place for our employees and business partners. Training and employee involvement are key. We have a strong behavior-based safety culture in which employees have created a low-risk work environment and realize its benefits. Consequently, they embrace 100 percent fall protection and all other components of safely working at heights. LG&E and KU are also members of the Electric Transmission and Distribution OSHA and Union Partners, which focuses on the advancement of safe work practices in the utility industry, including fall protection.
About the Author: Mike Woods, CUSP, is a safety and technical training consultant for Louisville Gas and Electric Company and Kentucky Utilities Company, which serve 1.2 million customers in Kentucky and Virginia. He is a key member of a company safety review board that prepares line technicians to take a state/federal line tech apprenticeship test. Woods was instrumental in developing and implementing training that transitioned LG&E and KU employees to 100 percent fall protection while working on poles and towers. LG&E and KU are part of the PPL Corporation family of companies.