Innovative Fire Suppression Solutions for System and Worker Safety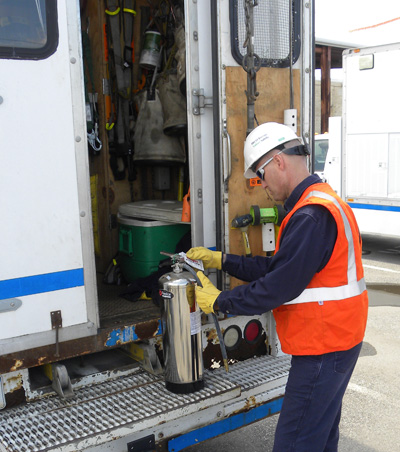 For over 100 years, PECO – a Pennsylvania utility and member of the Exelon utility family – has been supplying electricity and natural gas to customers across southeastern Pennsylvania, including those in Philadelphia and its surrounding suburbs. PECO has hundreds of miles of utility poles and thousands of circuit miles of medium-voltage distribution cables installed in conduit and manhole systems.
With all this infrastructure, it is only natural that wear and tear will occur, which can have an impact on the distribution system. Over the decades, PECO has experienced numerous failures of distribution system components, some of which developed into fires that were difficult to combat due to poor weather conditions. Unfortunately, local volunteer fire departments typically are not equipped to deal with these types of fires, and even city fire departments, whose workers receive training on electrical fires, sometimes have a difficult time extinguishing them.
Regulations and Extinguishing Agents
Another issue PECO employees have had to deal with is the type of fire extinguishers available in their work vehicles. For utilities that have service fleets and operate under federal guidelines, the U.S. Department of Transportation requires those fleet vehicles to carry fire extinguishers. Per Federal Motor Carrier Safety Regulation 393.95, "Emergency equipment on all power units," each extinguisher must have a gauge to indicate if the extinguisher is fully charged and a label that displays its UL rating. Extinguishers also must be securely mounted and readily available and accessible for use at all times. In addition, a vehicle transporting hazardous materials must be equipped with an extinguisher with a UL rating of 10 B:C or more. If the vehicle is not transporting hazardous materials, it must carry one extinguisher with a rating of at least 5 B:C, or two extinguishers, each with a rating of 4 B:C or more.
Most vehicles that fall under these regulations are supplied with fire extinguishers that employ either a dry powder or foam extinguishing agent. However, for utility workers, sometimes neither dry powder nor foam extinguishers are enough to put out a pole, transformer or manhole fire. Dry powder should ideally be used outside, and of the two options, these extinguishers are most effective on fires, provided that the weather is good, there is no wind to blow the extinguishing agent around, and the worker has the equipment handy, can move toward the event and can deploy the agent without endangering equipment, property or the public. But foul weather – such as rain and snow – can diminish the effectiveness of the dry powder and force the worker to get extremely close to the fire event, placing them in a potentially hazardous situation.
There are a couple other drawbacks to the use of dry powder extinguishers. The first is that once the canister is engaged, it cannot be reused at the site – another canister must be secured. And second, dry powder agents can deplete oxygen levels, so they should not be deployed in any confined or enclosed space.
Much like dry powder, foam chemical extinguishers also require ideal weather conditions for truly effective use. In addition, they are ineffective on electrical fires, and the foam agent is unable to stick to surfaces – such as a utility pole – long enough to extinguish a fire.
To put it simply, both dry powder and foam extinguishing agents can work well when properly utilized, and when a fire occurs, utility workers will grab whatever we have at our disposal to suppress or extinguish that fire. But why not seek out an even better solution, one that is safer and more effective?
A New Firefighting Solution
The safety of our employees and customers is PECO's No. 1 priority, and we believe there is no job or task so important that we cannot take the time needed to do it safely. PECO and Exelon also foster innovation, empowering employees to actively seek out solutions to everyday problems and bring those solutions to senior leadership for approval.
In late 2013, we discovered a new solution for fighting utility fires while attending the International Construction and Utility Equipment Exposition (ICUEE) in Louisville, Kentucky. The name of the solution – which PECO is now deploying to our first responders – is FireIce, manufactured by GelTech Solutions (www.geltechsolutions.com). This new firefighting tool is a safe, nontoxic powder that turns into a gel when mixed proportionally with water. Because of the uniqueness of the gel, it will stick to the targeted surface when deployed and will not blow or burn away like traditional fire extinguisher powders, which – when deployed in any type of wind – can overshoot the fire and become ineffective. FireIce also has high heat reduction properties; it's effective in reducing thermal heat up to 5,000 degrees Fahrenheit. In addition, it's suitable for use on electrical fires because while it is conductive, it can safely be used from a distance, and it has been tested in an independent laboratory on energized equipment up to 50,000 volts. Finally, FireIce has more than 20 times the knockdown power of water and can be used from as far as 40 feet away from the fire the user is trying to extinguish.
Because of FireIce's properties, it greatly increases employee safety when a fire breaks out, all while helping PECO keep our commitments to our customers and the environment. From the moment we saw a demonstration of FireIce in action at ICUEE, we were eager to find ways to adapt it to our utility environment. The next step was to bring the solution to leadership, and once we had their buy-in, PECO began working with GelTech on the creation of a product line designed specifically for our company. What we've created – and what we're currently putting on our trucks – is a 2.5-gallon FireIce extinguisher, a heat insulation jacket for the canister and a unique mounting bracket based on a two-year field trial initiative. This is in addition to the DOT-mandated B:C extinguishers found in our trucks.
It's important to note here that PECO's safety culture is designed to collect continuous feedback from our workers. In the case of mounting FireIce extinguishers in our trucks, feedback obtained from field trials indicated that workers wanted a less invasive mounting system that didn't require extensive drilling of bins for mounting purposes. This feedback led to the creation of a magnetic mounting system so that the unit can be strategically mounted in various types of vehicles. The system is faster to install, plus it can be removed just as easily when the vehicle goes out of service. It is currently being installed on all first-responder vehicles, with completion expected by the end of 2018.
Emergency Manhole Deployment System
PECO also has worked with GelTech Solutions on the development of a new design for manhole events: the Emergency Manhole FireIce Deployment (EMFID) system. There is a great need for this system because nothing currently exists on the commercial market that can safely extinguish a manhole fire – with no harm to the worker in the manhole – while the space is occupied. The EMFID system is designed to protect workers should an event occur while they're in a manhole environment with energized cables. The system's development was in its infancy when PECO and GelTech began working together.
So, what exactly does the EMFID system consist of? It's a 7-gallon FireIce extinguisher that sits inside of a worker's truck, and it comes equipped with a bracketed hose stand that can be dropped down from the truck through the top of a manhole. It's analogous to a showerhead with a nozzle, but this unit has a brain with arc sensors that monitor the manhole environment while the worker is inside of it. If a flash occurs, if a cable explodes, if heat rises too high or if a manual kick-switch at the base of the unit is activated, the unit deploys FireIce gel almost instantaneously. Deployment lasts approximately 90 seconds, which gives the worker time to climb to safety. The gel covers everything it comes in contact with, cooling off the atmosphere, knocking down all toxic gases and fumes, coating the worker so they don't catch fire and extinguishing – or nearly extinguishing – any flames. The gel also coats the manhole ladder, which likely is made of either metal or fiberglass. With the intense heat of a fire, metal can become so hot that a worker will burn their hands and feet, and fiberglass will melt. The EMFID system eliminates these hazards and, while 90 seconds doesn't sound like much, it gives the attendant time to help the endangered worker out of the manhole.
Laboratory Testing
As part of our FireIce field trials, PECO conducted extensive testing at the Kinectrics laboratory in Toronto. The testing was performed to determine the exact parameters of the EMFID system's design, and an affirmation of FireIce's cooling properties also was completed. All the data collected was used to fine-tune the EMFID system, including its arc sensor array. The independent laboratory analysis included the following studies:
Evaluation of Spray Area Coverage and Uniformity
Evaluation of Sensor Sensitivity to Detect an Arc Flash
System Performance Check with Deployment of FireIce
Evaluation of Sensor Using Real Cable Fault
Evaluation for False Trigger of Arc Flash Sensor
Further design application work and field trials are scheduled to take place midyear this year to determine viable solutions for truck-mounting the system as well as deployment opportunities for PECO's underground teams. Based on the Kinectrics testing data, FireIce truly is an industry innovation and one of the most adaptable products available on the market today when it comes to fire safety for workers. The extinguishing agent as described in this article is now being shared with PECO's peer utilities within the Exelon family of companies, including Atlantic City Electric, Baltimore Gas and Electric Co., Commonwealth Edison of Chicago, Delmarva Power and Pepco Holdings.
About the Authors: Edward Morson is a senior methods specialist at PECO. He earned a bachelor's degree in business management from Rosemont College and has over 30 years of experience in the utility industry, primarily in underground systems. He has led the FireIce development at PECO from field trials to implementation. Morson's activities have included product research and development, field trialing and testing, industry product design, procedural writing, training and education. Reach him at edward.morson@exeloncorp.com.
Mark Green is a senior methods specialist at PECO with over 30 years of experience in aerial line work, including distribution and transmission. He has been involved in a broad range of activities, including aerial line work as a lineman and currently as a subject matter expert for substations and transmission, conducting product research and development, field trialing and testing, industry product design, procedural writing, training and education. He also has led the FireIce development at PECO from field trials to implementation. He can be reached at mark.green@exeloncorp.com.