Injury Prevention Through Leadership, Employee Engagement and Analytics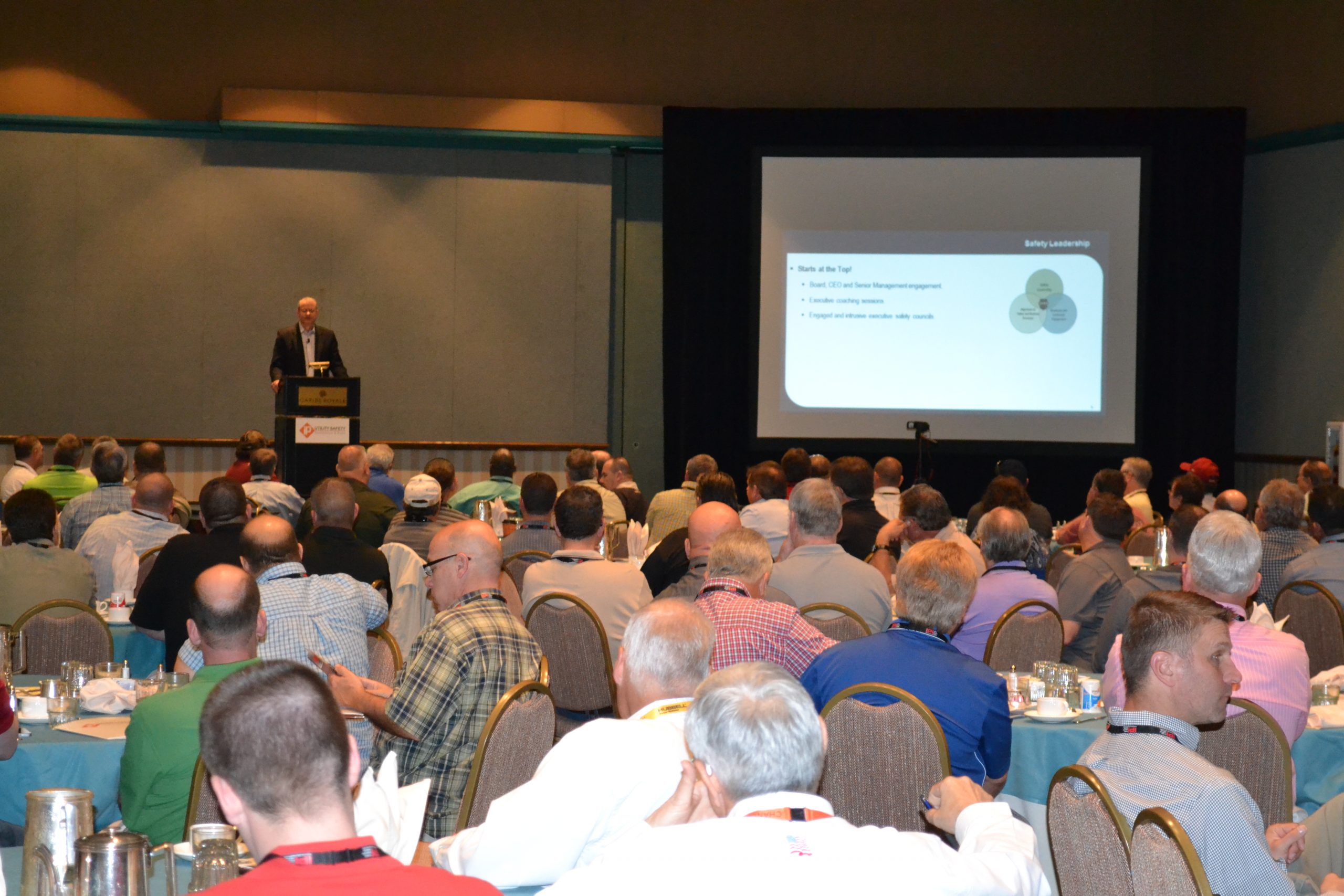 Safety is a core value and central to everything we do at Duke Energy. It is an ingrained part of how we operate the company, and we put safety first in our workplaces and communities. Our goal is for everyone we work with to return home safely each day.
We continue to drive a culture of safety through an excellence model comprised of three key elements: safety leadership, employee and contractor engagement, and robust safety processes. Everything we do – from activities and programs to safety improvement initiatives – falls under one or more of the elements that comprise the safety excellence model.
Safety Leadership
At Duke, safety starts at the top. The board, CEO and senior management must have safety as a core value, set expectations, and hold employees and contractors accountable to meet the standards set by the company. Leaders set the tone for the entire company and drive improvements through personal example, a questioning attitude, and oversight that provide assurance that employees are trained to follow safety standards and work practices.
I meet with senior managers regularly to discuss safety and help them strengthen their leadership skills. Leaders from each of our business units influence the organization by sharing information and best practices. Duke's leaders also listen to the concerns of our employees – nearly 28,000 people – and take action to drive improvement. Their prompt response to these concerns provides immediate, direct and powerful reinforcement of their personal safety values, and gives them the opportunity to better understand and define organizational objectives, influence positive behavior and achieve safety excellence. Our leaders also recognize, reinforce, and reward excellent employee and contractor performance.
Employee and Contractor Engagement
Employees are responsible for their safety, take action to ensure their teammates' safety, and work to identify and mitigate hazards. These actions are guided by Duke's three safety principles: personal accountability, active caring and hazard recognition. These principles were developed by looking at past incidents and common cause behaviors, as well as by studying work groups that were performing extremely well to see what they were doing.
We reinforce these safety principles every day by recognizing both positive and negative behaviors. After every near-miss and safety incident, we ask where we fell short in one or more of the safety principles. This reinforces to every employee how adherence to these principles drives our safety success or failure.
Duke's leaders influence employee and contractor engagement by demonstrating safe behaviors and following the three safety principles. Employees typically pay close attention to their supervisors' actions and tend to exhibit the same behaviors that they routinely see. Another way we strive to increase employee engagement is through the use of recognition programs that identify peers who demonstrate safe behaviors. We also promote employee-led safety councils and rely on peer observation programs and near-miss reporting to engage employees.
We find it more difficult to influence contractors. Therefore, we select contractors who already demonstrate high levels of employee engagement through their safety performance. We use a contractor safety performance database and performance rating system to hold them accountable to high safety standards that exceed industry median levels for the work they perform. We also hold contractor safety summits in various businesses and regions to reinforce expectations and share best practices.
Safety and Business Processes
All companies know that strong training and certification programs as well as standards, procedures and written work practices are important safety business processes. Like other companies, Duke documents near misses, first aid cases and OSHA recordable injuries, and we conduct safety culture assessments and incident investigations. However, we have found that while these standard approaches are necessary, they are not sufficient to achieve outstanding safety performance.
At Duke, we realized that we did not adequately understand and control our safety risks, especially for infrequent, high-consequence events. Over the past two years, we have enhanced our data collection and analysis capabilities to help us understand our safety risks for each line of business, critical work function and specific critical work activity. Our analysis yielded many insights into sources of risk and strategies to eliminate or reduce the frequency and/or consequences of events. By aggressively implementing controls and barriers, we have lowered our risk profiles and reduced injuries.
Safety Performance
The combination of culture-based and analytical approaches helped lower our OSHA recordable injury rate to near industry-best levels. Our total incident case rate (TICR) performance, which looks at the frequency of injuries, has improved 40 percent since 2010.
However, TICR does not address the severity of injuries. Duke has adopted a new definition of serious injuries that is being standardized across the utility industry and supplements traditional metrics like DART and lost day cases. Serious injuries include broken bones, concussions, serious burns, damage to internal organs and amputation.
Our focus on leadership, employee engagement and risk analysis also reduced the number of serious injuries in the company by more than 30 percent in 2013. Most of our improvement in 2013 was due to our laser focus on slips, trips and falls, which resulted in a 77 percent reduction in serious injuries.
Eliminating Serious Injuries and Fatalities
Preventing serious injuries and fatalities is a constant challenge with no single solution. Duke continues to implement human performance principles and data-driven analysis to better understand causes and prevention of serious injuries and fatalities.
We have gained critical insights through our work. One insight is that the traditional safety pyramid does not accurately predict serious injuries and fatalities. Reducing many types of minor injuries has virtually no effect on reducing the likelihood of a fatality. For example, we have dramatically reduced eye injuries, hand injuries, and injuries due to slips and trips, but rarely do people die from these types of injuries.
Another important finding is that the vast majority of our serious injuries and fatalities over the past 10 years resulted from operations or activities involving high-energy sources. High-energy sources include electricity, moving and falling objects, rotating equipment, falls from height and motorized vehicles. Subsequently, we are identifying those critical work steps involving high-energy sources and improving our programs and processes to ensure that those critical steps are done 100 percent correctly, 100 percent of the time.
Based on our data analysis and findings, we developed a fatality prevention model that addresses serious injury and fatality metrics, precursors and tools. Metrics use data analysis to identify precursors likely to cause a fatal or serious injury. Precursors include what situations or activities are known to lead to a fatal or serious injury. Tools prioritize precursors by risk, assess risks of precursors and identity interventions to control risks.
We've concluded that strong safety leadership from the top of the company – in combination with employee and contractor engagement – is necessary, but not sufficient to achieve safety excellence. We also strongly recommend a thorough process to identify, rank, prioritize and mitigate risks in each line of business, with particular attention paid to situations and activities involving high-energy sources. Finally, make sure you can answer this question: How do you know critical work activities and steps are performed correctly each and every day?
About the Author: Mike Engelman is vice president of health and safety for Duke Energy. He began his career in 1978 with Cygna Energy Services, a nationwide engineering and construction services provider to commercial, industrial and government organizations. Engelman joined Progress Energy in 1994 and served in a variety of key leadership assignments in the nuclear, fossil and energy delivery groups. In 2009, Engelman was asked to lead Progress Energy's health and safety organization. He was named to his current position with Duke Energy in July 2012.
About Duke Energy: Headquartered in Charlotte, N.C., Duke Energy is the largest electric power company in the U.S., supplying and delivering electricity to approximately 7 million customers in the Southeast and Midwest. The company also distributes natural gas in Ohio and Kentucky. Its commercial power and international businesses operate diverse power generation assets in North America and Latin America, including a growing renewable energy portfolio.