Drones and the Future of Tower Safety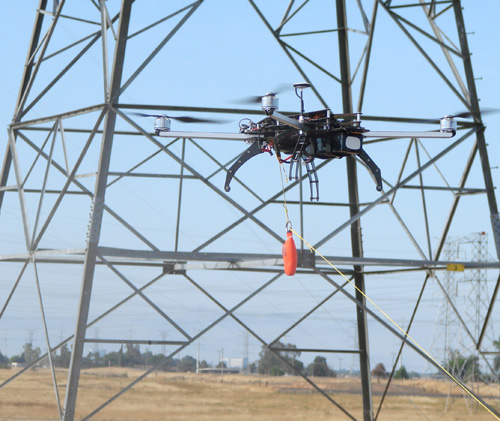 My entire adult career has been dedicated to electronic communications and related safety issues. When I was an adjunct professor at American River College in Sacramento, Calif., I regularly told my students to constantly strive for efficiency in the safest way possible. That same statement has also been my principal motivation in working to develop an idea to use drones, or unmanned aerial vehicles (UAV), to eliminate the most dangerous aspect of tower climbing – how best to attach a line on the structure that enables all workers to climb while meeting the 100 percent attachment regulation required in OSHA's new final rule. In my position as an instructor at Safety One Training International, which provides safety training for utility and telecommunications professionals out of its headquarters in Littleton, Colo., I've been able to take this idea to new heights, so to speak.
Answering an Important Question
To give you some background, Safety One was already using drones in some of its work. In March of this year, during an editing session for one of the company's drone-focused videos, Todd Horning, my supervisor and the company's director of operations and training, approached me with an interesting question: Is it possible to drop a weighted line into a tower using a drone as a first-man-up rope system?
Hours after Todd asked the question, I was still thinking about it. Eventually Todd and I had the chance to meet about the subject and, bringing both of our professional backgrounds to the table, we debated how we could turn his question into a functional reality. Even after our meeting, my mind continued to reel throughout that evening. The more I thought about the concept of UAVs assisting in tower work, the more questions came to mind, and the more I realized that the idea could work and – more importantly – save lives in the process.
My first priority the next day was to begin researching the known capabilities of UAVs. It is interesting to note that I could not find confirmation that any other companies or organizations had tried similar experimentation with UAVs. After informing Art Seely, Safety One's president and CEO, of my findings, he quickly decided that the company should obtain a new, large-scale drone to see if the idea of using it as a first-man-up rope system would work.
Art and I then began to search for a UAV that would be capable of this type of maneuver. After many lengthy conversations with manufacturers and programmers who were baffled by the concept, we finally located a company that we felt could provide us with what we were looking for. While waiting for delivery of the custom-manufactured unit, we ran many tests and maneuvers with other drones that we had been using to gather video for tower and snowcat training classes that we offer. The main objective in the maneuvers with these smaller drones was to determine their level of functional operation around high-voltage and high-electromagnetic field wires and power lines. This stage was important to ensure the safety of both the operator and the drone itself around live lines and high-voltage wires, which could have serious consequences if our theories were askew. After some modifications to our existing fleet and several hours of analysis, we felt ready to move forward with our idea of running a fall arrest safety line up a live high-voltage tower with a UAV.
Upon receiving the large-scale drone that we had custom manufactured to accomplish the task at hand, we began extensive modifications, testing and then more modifications until we had a UAV that we felt would succeed in its targeted application. Everyone at Safety One was so excited at the realization that we had come up with a clear, safe and affordable solution that eliminates the need to send a sole climber up a tower to set the initial line. Our costs were initially in the $5,000-$6,000 range, but technology is improving and prices are coming down.
How Does It Work?
At this point you are probably asking yourself, how does a drone eliminate this dangerous step? Using a camera – a GoPro, in our case – we connect it to a video downlink system from the UAV to a color monitor at the remote-controlled transmitter position. In this display, we can monitor all of the functional systems of the drone including battery life; the direction of its travel, pitch and roll; and the GPS location of the operator. This drone is a fully GPS- and gyro-stabilized unit. Not only can we fly using GPS, but we can tell the UAV where we want it to fly, hold and rotate the position, and then fly to another GPS location.
For use in a safety line installation, the operator uses the camera – which is mounted on a gimbal that allows for rotation – to check positioning and clearance on the tower. Once above the tower, we position the UAV in the location where we want it to be and then tilt down the camera to pinpoint exactly where we want the weighted line to fall. Once in position, a simple flip of a switch on the remote-controlled transmitter unit activates a custom-mounted release mechanism, dropping a 12- to 20-ounce weight with a small pull line through the tower and down to the ground. The UAV is then piloted away and landed on the ground.
Next, we use the smaller line to pull a larger 11-millimeter safety line up, over and back down to the ground, where it is secured to an anchor point on both ends. Once secured, a worker can attach a rope safety device to his or her harness and climb to the top of the tower while being 100 percent attached at all times during ascent and descent. The entire process eliminates first-man-up free-climbing or connecting and disconnecting other fall arrest devices multiple times while carrying a heavy rope to the top of the tower.
Other Uses
There are several other uses for the drone in a tower situation. Identifying problems and conducting inspections from the ground eliminate the need to climb a tower to see what is going on. Using a high-definition camera, we can record video in a 1080p format while monitoring what the camera is seeing from the operator's position on the ground. After only a few minutes of flight to a problem area on a tower, the UAV lands back on the ground, and we retrieve the SD card from the camera and play it back in a detailed, high-definition format using most any computer. At this point we can identify parts and tools needed to remedy any issues discovered using the drone.
In the case of inspections, a drone can be flown into places that are difficult to access by workers, record video and prevent unnecessary climbing to identify where a problem exists. Both the efficiency and the safety of the crew are increased using this process. The images taken by the UAV can also be saved and sent to engineers, supervisors or contractors to assist in modifications, upgrades or repairs.
What's Next?
The emerging drone technology is rapidly growing in popularity and usefulness in both private and commercial applications. Whether taking pretty pictures or delivering packages to your doorstep, UAVs have arrived and will likely continue to play a role in our future. My view of using drones in tower-related tasks is that, by reducing the number of times workers have to climb towers and by conducting inspections from the ground, gathering high-definition video and stills along the way, we are helping companies to reduce hazardous risks and increase efficiency.
We will be presenting our findings and proposed regulations to the Federal Aviation Administration in a joint effort with the larger utility companies we are working with to develop Safety One's drone program. We estimate that this presentation will take place sometime near the end of this year or perhaps in the first quarter of 2015. Safety One has also added basic and advanced UAV/drone flight training and program management courses to the company's safety-at-height offerings. Along with the utility-specific rope-access training we have specialized in for the past few years, we continue working to take safety at height in new and different directions.
About the Author: Tim Ondracek is an instructor for Safety One Training International and a telecommunications professional with more than 20 years of industry experience. Most recently he spent five years as a senior telecommunications technician for the State of California. Ondracek is actively involved in safety as part of his job and also acts as a climbing and rescue instructor for various state agencies. Before becoming involved with Safety One's UAV/drone flight operations program, he spent more than 500 hours flying remote-controlled vehicles.