Creating a Safe Driving Culture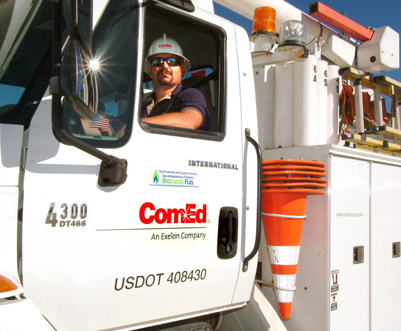 At ComEd, as with any other electric utility, keeping the lights on is important. However, no job is so important that it cannot be done safely, and that includes driving to and from the job site. Over the past few years, ComEd – a unit of Chicago-based Exelon Corp. and the largest electric utility in Illinois – has worked diligently to educate its drivers about safe driving practices, help them develop skills and learn techniques to avoid accidents, and raise awareness about the many distractions that can occur on the road today. Drivers are encouraged to "treat driving with the respect it deserves," whether at a reporting location, on the road or at a customer's property.
ComEd's Safe Driving Initiatives
Defensive driving, according to the National Safety Council, is defined as "driving to save lives, time and money in spite of the conditions around [the driver] and the actions of others." In order to set clear expectations for its driving force, ComEd has adopted a driver safety program to help its drivers improve their defensive driving skills. Following are descriptions of a number of safe driving initiatives included in the driver safety program that have worked for the utility.
Smith Driving System
This is the foundation of ComEd's safe driving program. All employees who drive company vehicles are trained on the Smith Driving System, which is based on five key principles:
1. Aim high in steering. Make sure you're looking far enough ahead of your vehicle so you have time to react to any hazardous situation that may present itself.
2. Get the big picture. Keep the acronym G.O.A.L. – Get Out And Look – in mind, and search for hazards all around your vehicle.
3. Keep your eyes moving. Don't stare in any one direction while driving; use your peripheral vision and continuously scan the entire area.
4. Leave yourself an out. Always have an identified escape plan for you and your vehicle.
5. Make sure they see you. Help other drivers be aware of your presence by using the tools at your disposal, including the vehicle's turn signals, brake lights, headlights and horn.
360-Degree Walk-Around
A 360-degree walk-around is a practice that any driver can use to ensure the area around the vehicle is safe before departing. Drivers are expected to walk all the way around the vehicle and check the clearances to the side, front, back and above. Stickers on the driver and passenger windows of ComEd fleet vehicles remind drivers to always perform 360-degree walk-arounds. The stickers also remind drivers to be cognizant of blind spots and to make sure they always wear their seat belts.
Maintain a Safe Following Distance
During daylight with dry roads and low traffic volume, ComEd drivers must maintain a safe distance from the vehicle ahead by following the four-second rule. Four seconds is the minimum distance a driver should travel behind the vehicle in front of him. The easiest way for you or any other driver to gauge the distance from the vehicle directly ahead is to use a landmark, such as a sign. When the vehicle in front of you passes the landmark, count four seconds. If you pass the landmark before you're done counting, you're following too closely.
ComEd drivers also are trained to change their safe following distance when environmental conditions change. In heavy traffic, at night or when weather conditions are not ideal (e.g., when it's raining, snowing or foggy), the rule of thumb is to double the four seconds to eight seconds for added safety. And when the vehicle is stopped at a light during inclement weather, drivers are instructed to leave an entire car length of space in front of their vehicle, which serves as a safety cushion.
Move Forward, Not Back
Another safety method taught to ComEd drivers is that, when parking, the goal should always be to position the vehicle in such a way that upon exiting, the driver can pull forward instead of backing out of the parking spot. Drivers are trained to think about an exit strategy whenever they first arrive at any location, whether it is a job site, reporting location or home. They are taught to ask, "Is this the best place to park?" and "Am I in the best position to exit?"
Stop, Scan, Primary Technique
The STOP, SCAN, PRIMARY Driving Technique is ComEd's newest initiative, borrowed from Baltimore Gas and Electric Co., its sister company. The technique helps drivers better navigate around mobile and stationary objects in close-quarter situations, regardless of whether the driver is moving forward or backward. The technique is specifically designed to address the primary cause of close-quarter collisions, known as "switch-tasking." Switch-tasking occurs when the driver switches, or toggles, his focus back and forth across objects while the vehicle is in motion. Training on the STOP, SCAN, PRIMARY technique offers drivers a method to eliminate switch-tasking while in motion, hence greatly reducing the risk of a collision.
How exactly does the technique work? Here is a breakdown of each step:
1. Stop before you begin your driving maneuver.
2. While stopped, scan all desired sensory inputs – such as your rearview, driver or passenger mirror; backup camera; or spotter – to verify conditions and confirm the position of the object to avoid.
3. Once you're in motion, focus on the primary sensory input you have selected until you clear the object; lose sight of the object; feel the need to scan again; or feel the need to switch sensory inputs.
4. Repeat this process as necessary until the maneuver is complete.
Assessing Driver Performance
At ComEd, any driver who has been in a "preventable accident" must complete a driver competency assessment. A preventable accident is one in which the driver failed to exercise every reasonable precaution to prevent the accident. The driver competency assessment tool evaluates a driver's decision-making skills based on six variables – headway, junctions, vehicle handling, speed, time management and space management – plus it quantifies the degree of variability a driver exhibits during distracting situations while driving in various environments. Once evaluated, driver improvement training provided by ComEd helps the driver understand how distractions influence his driving ability.
Driver Auditor Training
Many industries, including utilities and thus ComEd, are expected to perform audits on their drivers. As a proactive measure, in early 2015 ComEd began reviewing its auditing program in order to ensure drivers were receiving appropriate feedback. The utility questioned how much its auditors knew about how to perform adequate assessments. This drove ComEd to create an eight-hour driver auditor training course that includes both classroom and behind-the-wheel training. The course not only helps auditors understand what to look for during audits and how to coach other drivers, but it also helps auditors improve their own driving performance.
Cellphone Policy
ComEd drivers are required to follow all federal and state regulations regarding cellphone usage, which includes a ban on using hand-held cellphones while driving. However, knowing there is often a gap between understanding the law and what it really means to speak hands-free, ComEd continually evaluates its cellphone usage policy. The utility works to ensure that drivers are educated about regulations and that they understand how cognitive distractions from cellphone conversations may impact their driving abilities. ComEd strongly recommends avoiding cellphone use while driving.
Safe Driving Communications
In addition to its safe driving initiatives, ComEd has invested in a strong safety communications program to help reinforce the driving initiatives and keep safe driving practices top of mind for all employees at the utility – not just those driving company vehicles. Important driving tips are communicated via ComEd's weekly safety newsletter, informative training documents, videos, posters, online training and other internal messaging.
Looking Forward
ComEd continues to look for ways to improve driver safety, including gathering and sharing information with other companies in the same industry. Earlier this year, ComEd hosted the 2nd Annual Safe Driving Utility Forum, where 15 electric utilities and contractors from across the U.S. gathered to network with each other and discuss road safety benchmarks, best practices, new technologies and training initiatives.
Building a strong safe driving culture in a world where outside influences routinely compete for drivers' attention is a critical step toward reducing risk and minimizing driving incidents. It's important to keep your safe driving program fresh and current with a robust training program, clear and consistent messaging and up-to-date technologies in order to keep drivers engaged and committed to safe driving.
About the Author: Eduardo Suarez is a manager in the safety department at ComEd, a unit of Chicago-based Exelon Corp. He is responsible for overseeing all field safety professionals and managing internal strategy, performance and training for the safe driving program. Suarez also analyzes and implements best practices with his Exelon counterparts at Baltimore Gas and Electric Co., PECO and Pepco Holdings to ensure alignment and cohesiveness throughout the organization.