Competition for a Cause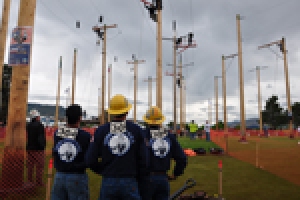 Every June, a forest of 45-foot power poles suddenly sprouts in scenic Walla Walla Point Park along the Columbia River in central Washington state. It's a sign that the best power linemen in the Pacific Northwest will soon head to Wenatchee for the annual Andrew York Lineman Rodeo.
Entering its eighth year, the rodeo is hosted by the employees of five public utility districts (PUDs) and International Brotherhood of Electrical Workers Local 77. It is held to honor Andrew York, a Chelan County PUD journeyman lineman who died in 2000 after being struck on the job by a drunken driver. Proceeds from the rodeo support the Andrew York Memorial Scholarship. More than $17,500 in scholarships has been awarded to high school seniors from around the state who have been active in drug and alcohol abuse prevention.
Many linemen say the chance to compete for a cause brings them back year after year. So do the friendships made and the family feeling of the event, which offers spectators a chance to strap on spikes and safety harnesses to give pole-climbing a try.
"This event is a tribute to the camaraderie of all those in the line trade," said Daryn Klinginsmith of Wenatchee, a former lineman and founding member of the Andrew York Lineman Rodeo. "This rodeo is an opportunity to showcase good, safe work practices and the commitment to improving the valuable skills linemen rely on to go home safe each day. So many people volunteer so many hours to make it happen, and it is exciting to see it keep growing every year."
Support for a Fallen Brother
Andy York was everyone's idea of a lineman. He was tall, strong and devoted to his family, his work at Chelan County PUD, and his union brothers and sisters. The circumstances of York's death in July 2000 while on the job made the loss even harder.
Almost immediately co-workers began talking about how to honor York and asking what they could do to help prevent other families from having to face the grief of a death caused by drunken driving.
Community safety events were organized in York's memory in 2003 and 2004 to raise scholarship funds. While meaningful, those events didn't reflect York's zeal for line work. He was hired as a Chelan County PUD apprentice in 1996 after working in construction and was a journeyman lineman when he died at age 33.
Chelan County PUD linemen and supervisors, who were involved in pole-top rescue competition, had seen other lineman rodeos and wanted to bring the excitement and safety message of that type of event to the region.
As planning started for another memorial event in 2005, organizers and PUD linemen came together, and the Andrew York Lineman Rodeo was launched.
What is a Lineman Rodeo?
There aren't any bucking broncs or bulls, but a lineman rodeo is a test of skill. There is much to watch as teams and apprentices compete under a judge's watchful eye in events such as transformer change-outs and hurt-man rescue.
In 2011, 13 journeymen teams and 30 apprentices competed for belt buckles, trophies and bragging rights. Scoring emphasizes that safety is as important as speed. For the second year in a row, a team from Portland General Electric in Portland, Ore., took top honors. The top apprentice was John K. Walsh from Potelco Construction, based in Sumner, Wash.
The rodeo continues to meet its goal of providing scholarship money. Committee members expect to add about $20,000 to the scholarship endowment this year, bringing the total by year end – depending on market conditions – to about $70,000. The goal is to have $100,000 in the endowment by the rodeo's tenth year in 2014.
Always held the third Saturday of June, next year's competition is set for June 16, 2012. Visit the Andrew York Lineman Rodeo website at www.ayrodeo.com for more details and registration information.
About the Author: Kimberlee Craig is public information officer at Chelan County PUD and a member of the Andrew York Lineman Rodeo Committee.