Apprenticeship Training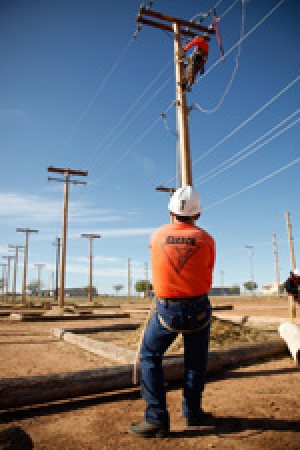 Apprentice training has been around as long as man has worked. I retired after a nearly 50-year career that began with an apprenticeship, and I currently act as a safety and training director, working with power line and electrical apprentices. My personal training was all on the job with almost no bookwork. A lineman I worked with gave me his copy of the "Lineman's Handbook" and told me to read it. This book was perhaps the first version of a distance learning program. Fortunately, our crew leader was a very conscientious man and the linemen were exceptionally good. Several years later, with the mentoring of that crew, I became a journeyman.
Under Pressure
Line work has always involved situations in which the younger, inexperienced worker learns from the older, more experienced worker, thus putting a great deal of pressure on the experienced worker to do things correctly. The problem with this arrangement is that the older worker doesn't always do things safely because he learned from someone who didn't do it safely either. Here is where good training can play an important part in developing good safety habits. The habits developed early in one's career will often stay with them, especially if they are reinforced by a good mentor. Being able to work on different crews during an apprenticeship enables the individual to learn different ways, both good and bad.
Can a person begin his career this way today? Certainly, and many do. If they are with the right people, they will become good, safe lineworkers. However, there is another way to begin a career in line work today, and that is to attend a lineworker's school. There are both private and public schools offering programs to prepare young men and women to become power lineworkers. Community colleges with technical programs generally offer power lineworker programs. These programs are as short as four months in the case of some of the private schools, or as long as two years at some community colleges that offer associate degree programs. For the individual who wants to receive a journeyman's certificate from the U.S. Department of Labor, the apprentice needs additional schooling, which is often a distance learning program.
Benefits of Exposure
What are the benefits of this intensive short exposure to power line work? I've heard line superintendents and company owners both say they will teach apprentices to climb and that's all they want. In fact, I've even heard them say, "Forget everything else – I'll teach you what I want you to know from now on." In some cases this philosophy may be all right, but after looking at what is available as a result of the development of lineworker schools, these old opinions should began to fade. True, the exposure these young people get is very short, but in terms of the learning curve, it will put them weeks ahead of off-the-street apprentices. Also, if the potential apprentice travels to attend a distant school, they will see if they can handle traveling and working away from home. So often the local student wants to stay where they grew up, but there are only so many openings for apprentices in any given area. Because of this preference, some good beginning apprentices drop out of the trade when there are no local jobs available. This indicates that perhaps they didn't explore all aspects of this trade. Today's mutual aid agreements between utilities likely mean the lineworker will at some point have to work away from home.
To successfully complete any apprenticeship program, the potential apprentice should carefully select a school. The school should likewise be selective in its admittance practices. Also, if future employers are selective in whom they choose, they will hire apprentices who successfully complete their programs and become good journeyman lineworkers.
I recently toured a private school and was very impressed with the equipment, the program and everything else they offered. I was envious of the opportunity the students attending this school have to learn about power line work. The students attend class in the morning and work outside during the afternoon as a crew with varying responsibilities. The field work is divided up so they will work on everything from underground to transmission lines, including climbing a lattice tower. The field work is also rotated so everyone in the class is exposed to all the procedures. With an indoor laboratory where they can learn about transformer connections, recloser operations and line switching procedures, they get a wide spectrum of training. Learning how the line-related equipment functions prepares the worker to become safer. While this may be an exceptional program, it indicates what is available for the individual who can afford a private school.
On-the-Job Training
Some apprenticeship programs have implemented on-the-job training (OJT) to provide students even greater learning opportunities. The apprentice candidate works in the field for the OJT and then attends classroom training. This is how union training has operated for years, but combining OJT with related classes helps the apprentice to better retain information from books. Putting together a program such as this could perhaps only be done with the united cooperation of a larger utility or by combining several utilities' apprentices into a pool of workers. The idea could also be applied if one construction company were large enough to employ a number of apprentice candidates. The benefit of this would be the ability to move apprentices around to correlate their OJT with formal classroom education.
A very important factor in the development of a good lineworker is the mentoring they receive from other crew members. While discussing this subject with one of the apprentices I hired years ago who turned out to be a very talented lineman, he said he had to step back and look at the big picture of how the crew worked as a unit. When he could feel good about the members on the crew, he could have faith that they would only teach him the proper, safe way to do things. He was judging what kind of mentors his fellow workers would be. The apprentice must never forget that he is the individual most responsible for his safety, regardless with whom he works.
Apprenticeship training has come a long way, making line work safer today than it was 50 years ago. There are other factors contributing to its improved safety, such as better tools and equipment, but better training has certainly helped. Schooling will continue to improve as utilities and contractors see the benefits of hiring workers who have received some type of preliminary training. Crew foremen and journeyman lineworkers still need to remember that these are apprentices who are learning the trade. Help them learn the proper way.
About the Author: Chuck Woodings, CUSP, has worked in the electric utility trade since 1964, and has been a safety instructor and safety and training director for the last 20 years. As a job training and safety instructor, he helped develop a 29 CFR 1910.269 training program used to train employees of more than 100 utilities on the West Coast. Woodings worked all around the country throughout his career, finally settling in Boise, Idaho, in 1997. He became a Certified Utility Safety Professional in May 2011.